What is the law in Georgia on negligent hiring and retention of a truck driver?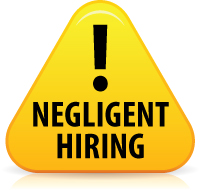 Often in a catastrophic truck crash, the trucking company admits that the truck driver was negligent and was in the course and scope of employment. That is a smart tactic to attempt to focus all blame on two seconds of driver negligence rather than months or years of corporate conduct including negligent hiring of the driver. They may get by with it because of a Court of Appeals decision that bars claims for the company's corporate negligence that are "merely duplicative" of respondeat superior agency liability for negligence of an employee. Hospital Authority of Valdosta/Lowndes County v. Fender, 342 Ga. App. 13, 802 S.E.2d 346 (2017), et cit.
However, in many cases the claim of negligent hiring is not "merely duplicative" as the company's  corporate conduct in turning a blind eye to safety that may have been the actual root cause of the tragedy. Negligent hiring of a truck driver  is a separate and distinct theory of liability from negligent entrustment of a truck to the driver.
The Georgia Supreme Court has approved Restatement of Torts 2d, § 213 Principal Negligent or Reckless. See e.g., Munroe v. Universal Health Services, Inc., 277 Ga. 861,862 (1), 596 S.E.2d 604, 405-06 (2004); Harvey Freeman & Sons, Inc. v. Stanley, 259 Ga. 233(2), 378 S.E.2d 857 (1989).
Restatement of Torts 2d, § 213 states:
A person conducting an activity through servants or other agents is subject to liability for harm resulting from his conduct if he is negligent or reckless: . . .
. . .
(b) in the employment of improper persons or instrumentalities in work involving risk of harm to others:
(c) in the supervision of the activity . . . .
In  Munroe, supra, the Supreme Court held that "a defendant employer has a duty to exercise ordinary care not to hire or retain an employee the employer knew or should have known posed a risk of harm to others where it is reasonably foreseeable from the employee's 'tendencies' or propensities that the employee could cause the type of harm sustained by the plaintiff."
The Court held, "the relevant question is whether [the defendant] knew or in the exercise of ordinary care should have known that … the employee it hired and retained to perform duties …. was unsuitable for that position because he posed a reasonably foreseeable risk of personal harm" to persons like the plaintiff."  Accord, Coe v. Carroll & Carroll, Inc., 308 Ga.App. 777, 786 (2011); Cooper v. Marten Transport, Ltd., 2012 WL 12358220 (N.D. Ga., decided Feb. 23, 2012); Munroe v. Universal Health Services, Inc., 277 Ga. 861,862 (1), 596 S.E.2d 604, 405-06 (2004); Piney Grove Baptist Church v. Goss, 255 Ga.App. 380(2), 565 S.E.2d 569 (2002); Georgia Electric Co. v. Smith, 108 Ga.App. 851, 854(1), 134 S.E.2d 840 (1964).
The Georgia Supreme Court has repeatedly held that in order that a party may be liable as for negligence, "it is not necessary that he should have contemplated or even be able to anticipate the particular consequences which ensued, or the precise injuries sustained by the plaintiff. It is sufficient if, by exercise of reasonable care, the defendant might have foreseen that some injury would result from his act or omission, or that consequences of a generally injurious nature might have been expected." See, e.g.,  Smith v. Finch, 285 Ga. 709, 712, 681 S.E.2d 147 (2009).
We have seen truck crash cases in which truck drivers had driving records or medical conditions, either when hired or that developed over time, that were medically disqualifying to drive a tractor trailer, but employers just turned a blind eye to information that was right in front of their eyes. Some of those hazards could have been remedied if an employer had simply required the employee to go to a sleep specialist.
Thus, it is important to explore the root causes  of a tragedy that started long before the moment in which a truck driver did something that was the immediate cause of a crash. Often the forces were set in motion by the very act of hiring an incompetent truck driver, leading inexorably to disaster on the road.
If you have questions about a serious injury or wrongful death case in Georgia, contact us at 404-253-7862.
---
Ken Shigley is a past president of the State Bar of Georgia, past chair of the State Bar's Tort & Insurance Practice Section, past chair of the Georgia Insurance Law Institute, past chair of the American Association for Justice Motor Vehicle Collision, Highway & Premises Liability Section, and a member of the board of governors of the Academy of Truck Accident Attorneys. He is lead author of Georgia Law of Torts: Trial Preparation & Practice (Thomson Reuters West, 2010-2018). His law practice is focused on catastrophic injury and wrongful death including those arising from commercial trucking accidents and those involving brain, neck, back, spinal cord, amputation and burn injuries. He is licensed to practice law in Georgia. Representation of clients in others states, which possible, can be undertaken only in strict compliance with the multijurisdictional practice and pro hac vice rules of the other state.